Disaster Prevention Products (High Performance Products)
Since our development of the JET HOSE, Japan's first fire hose to feature a latex rubber lining, we have been manufacturing and selling a range of disaster prevention and mitigation products that protect people and their environments from disasters, such as hoses that reduce the effects of flooding caused by climate change.
Main Products
Business Overview
Harnessing Experience with JET HOSE to Develop Superior Fire Hoses
Ever since 1952, when we released our JET HOSE utilizing Japan's first latex-lining technique, we have never stopped developing and improving our products in this field. Our integrated process for manufacturing high-quality products encompasses strict material selection, hose jacket weaving, plastic lining, comprehensive quality control, and manufacture using cutting-edge equipment. Our efforts have made possible the development of optimal materials and technologies for jacket weaving and hose lining, and have allowed us to release hoses that are easy to handle, light, and durable. With recent products such as the Dolphin Series and D-Light Alpha Series, we offer new fire hoses with low pressure loss.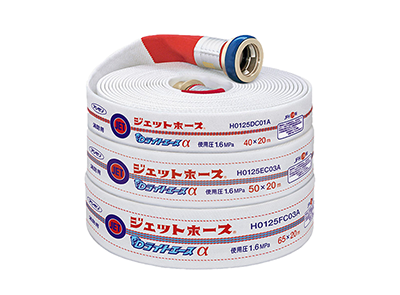 Pursuing the Creation of New Value That Responds to Society's Diverse Needs
In recent years we have been increasing the number of fields to which we provide various disaster-use hoses. We have had success developing and selling tunnel work and shipping hoses, and large-diameter hoses for supplying large volumes of water over long distances. In addition to fire hoses, we also offer a diverse range of disaster-relief products; for example, the JET FIRE FOGGING SYSTEM, the inflatable tent, life-saving equipment, and the Jastop water-blocking hydrogel-polymer bag. Through these and other products, we have striven to meet an increasingly wider range of needs throughout society.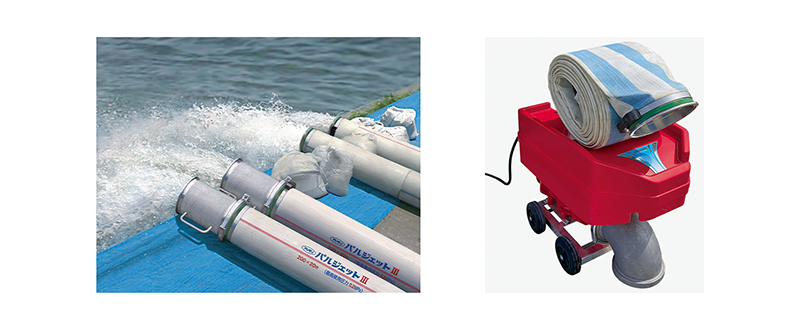 For Inquiries Regarding Our Products:
Osaka
Disaster Prevention Sales Department
Tokyo
Disaster Prevention Sales Department
For Inquiries via Email:
Disaster Prevention Sales Department